AI-ET Sires in use at Fossil Creek Angus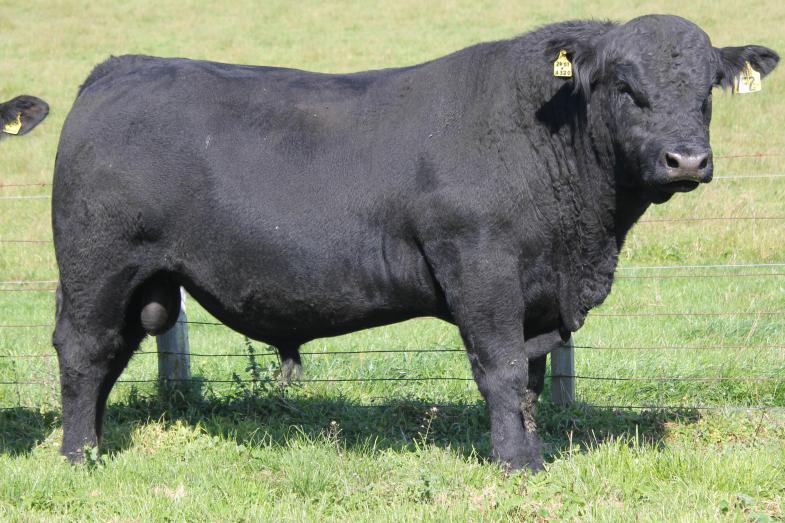 We use A.I sires selectively to introduce certain traits and use Embryo Transplant technology to breed our own herdsires wherever possible from our elite maternal proven cow families.
Over the past 20 years, the Fossil Creek herd has used carefully selected sires for both AI and Embryo Transplants to introduce economically relevant traits to the herd. A secondary consideration has been to maintain positive carcass merit in our cattle as well as keeping a close watch on Genetic Marker Technology especially for tenderness.
We remain committed to maintaining the functional integrity and fertility of our cow herd. Longevity and structural soundness are paramount traits that will not be compromised in the programme. The herd continues to receive infusions of genetics from the New Zealand Angus genepool. Many of the critical economic traits essential to maintaining commercial profitability within our client's herds can be sourced from such genetics. The Pure New Zealand Angus genepool has withstood over a century of natural selection for Grassfed efficiency of production.
Sires that have been utilized in our AI and ET programmes include Dunoon Reagan, Waimata E230 (pure New Zealand), Kenny's Creek Whitworth W134, Ardrossan Direction W109, Mytty in Focus, LT 698 Bando 9074, Sitz Alliance 6595, and Waigroup 41/97 ( pure NZ).In addition we have used Kennys Creek Eclipse W111 and SSR Bandolier 2446 both of which have left a great set of female breeding cows in the herd
In addition to this we continue to use a number of straws from Te Mania Prince 153-93 (see Herdsire page) in our synchronized heifer mating programme. The Prince's are foolproof and reliable and the females continue to be the cornerstone of the herd.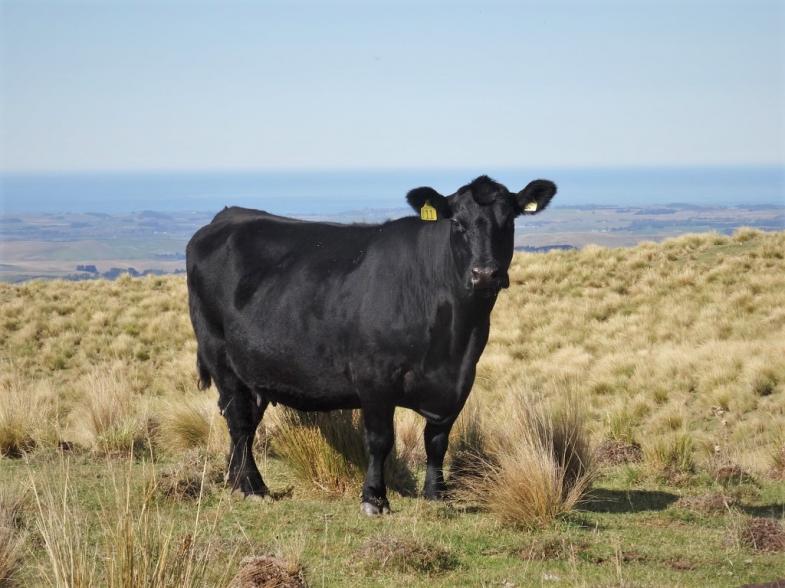 Fossil Creek Donor Cow in the Tussock Country of Newhaven
Recent sires to be used in our AI/ET Programmes are listed below along with links through to their pedigree and performance data. The recently used sires have been listed in year order that we have used them so should make it easier to ascertain the ages of their sons and daughters in the herd
2012 AI Mating Sires
S A V COPYRIGHT 0194

DoB:

n/a
S CHISUM 6175 (IMP USA)

DoB:

31/03/2006
ATAHUA BRAVADO 605-10

DoB:

08/08/2010
2011 AI Mating Sires
S CHISUM 6175 (IMP USA)

DoB:

31/03/2006
MOHNEN LONG DISTANCE 1639 (IMP USA)

DoB:

20/01/2009
MATAURI REALITY 839

DoB:

15/09/2008
SOO LINE GRIZZLEY 9034 (IMP CAN)

DoB:

n/a
S A V BRILLIANCE 8077 (IMP USA)

DoB:

24/02/2008
2010 AI Mating Sires
BT RIGHT TIME 24J (IMP USA)

DoB:

19/01/1999

Really great female breeder from the legendary Sitz Everelda Entense family

Moderate birth Wt but traitleader for 400 and 600 D Wt and plenty of progeny so good accuracies

Traitleader for Days to Calving and Carcase Weight but with good positive Fats

Excellent Carcase Data and dollar Indexes for Angus Pure

EBVs and Pedigree
ARDROSSAN EQUATOR A241 (IMP AUS)

DoB:

09/09/2005
2009 AI Mating Sires
WOODHILL FORESIGHT (IMP USA)

DoB:

03/12/2001

Half Brother to super sire Bon View New Design 878

Fantastic set of maternal EBVS and is trait leader for GL, Milk and Scrotal size

Real curve bender with low Bwt. Trait leader for weaning and yearling weight

Great set of carcass data

EBVs and Pedigree
BT RIGHT TIME 24J (IMP USA)

DoB:

19/01/1999

Really great female breeder from the legendary Sitz Everelda Entense family

Moderate birth Wt but traitleader for 400 and 600 D Wt and plenty of progeny so good accuracies

Traitleader for Days to Calving and Carcase Weight but with good positive Fats

Excellent Carcase Data and dollar Indexes for Angus Pure

EBVs and Pedigree
Historical AI Sires
SSR BANDOLIER 2446 (IMP USA)

DoB:

14/02/2006

Bandolier 2446 is siring very stylish progeny that are born easily and grow fast to weaning

Sired heaviest sire groups in both heifers and bull calves in 2010 at Fossil Creek Angus

Pedigree includes the Primrose, Everelda Entense and Forever Lady cow families.

Pathfinder Dam

High Growth Milk and EMA EBVs

EBVs and Pedigree
ARDROSSAN DIRECTION W109 (IMP AUS)

DoB:

19/07/2001

From the best Angus cow family in Australia

Multi trait leader for Low Gestation, Milk and Scrotal size

Trait Leader for Carcass Weight and Eye Muscle Area along with positive fat EBV and high IMF

High Indexing progeny

Well proven in large no of herds and high accuracy

EBVs and Pedigree
L T 598 BANDO 9074 (IMP USA)

DoB:

03/07/1999

Traitleader for 400 Day Growth Rate

Trait leader for Milk

Traitleader for Carcass Weight

Top 1% of breed for Self Replacing Index and Angus Pure Index

Very Low Birthweight with good Ease of Calving Index and short Gestation Length

Superb udders on daughters.

EBVs and Pedigree
DUNOON REAGAN (IMP AUS)

DoB:

22/12/1996

Trait leader for daughters calving ease and Birth weight

Positive Fat EBVs all with high accuracies

Sires very sound correct progeny with solid muscle pattern

Great final weight to Mature cow Weight ratio

Extremely high dollar indexes. Top 1% SRI and Angus Pure Index

EBVs and Pedigree
KENNY'S CREEK WHITWORTH W134 (AI) (ET) (IMP AUS)

DoB:

20/09/2001

Traitleader for Low Gestation length

Traitleader for Milk and Days to Calving and Eye Muscle Area

Positive Fat EBV's

Short Days to calving

Top 1% of Breed for Self Replacing and Angus Pure Index

Perfect Foot Structure and passes this to his progeny

EBVs and Pedigree
KENNY'S CREEK ECLIPSE W111 (AI) (ET)

DoB:

29/08/2001

Solid pedigree combining 036 and PAPA Equator

Daughters in production looking fantastic

sires progeny with above average growth , high Carcass Wt, EMA and Scrotal Circ

Trait leader for IMF and Milk in Australasia

High Positive EBVs for Body Fats make this sire quite unique

EBVs and Pedigree
WAIMATA LAD E230

DoB:

17/08/1998

Pure New Zealand Pedigree

Sire of Dam is the legendary Hingaia Tex 469

Semen currently in use in the Schaff Herd in North Dakota

Positive Body Fat EBV's and high milk daughters

Growth above breed average

Sires stock with heavy muscle pattern

EBVs and Pedigree
MYTTY IN FOCUS (IMP USA)

DoB:

18/02/2001

The most widely used outcross sire in the USA in 2008

Currently an Australasian Traitleader for Direct Calving Ease and Daughter Calving Ease and Birthweight

In addition a Traitleader for 200,400 and 600 day weight so a true curvebender

Also a Traitleader for Carcass weight

Top 5% of the breed for Self Replacing Index, Angus Pure Index and Calving Ease Index

Sires deep bodied heavily muscled cattle.

EBVs and Pedigree
PINEBANK WAIGROUP 41/97

DoB:

04/10/1997

Pure New Zealand Pedigree

Perfect Structural Soundness and great Temperament

Tons of muscle in the right places!!

Low Birthweight, moderate early growth and low mature cow size

Positive Fat EBVs , Eye Muscle and retail Beef Yield

High Self Replacing and Angus Pure index's

Sires high profit, easy keeping progeny in a moderate frame package.

EBVs and Pedigree
[ Back to top ]