Herd Sire Profiles
Since its inception, the focus of the Fossil Creek Angus herd has not deviated. We aim to produce genetics that reward our clients with the greatest return for the least input.
We sell not only our genetics but a programme of integrity, unqualified customer support and product guarantee.
Our policy is to select herd sires that exhibit superior maternal strength, excel in structural soundness and have the ability to transmit the traits relating to longevity and excellent constitution for harsh environments. We also recognize the requirement to respond to market signals. Our programme utilizes AI and ET using carefully screened bulls from both USA and Australia to enhance carcass traits where we feel necessary. However these bulls have to stand rigorous scrutiny and not deviate from our stated breeding policies. We aim to maintain fertility and high carcass yield as a priority. Multitrait selection has been the cornerstone of this programme and will continue to dominate the selection process.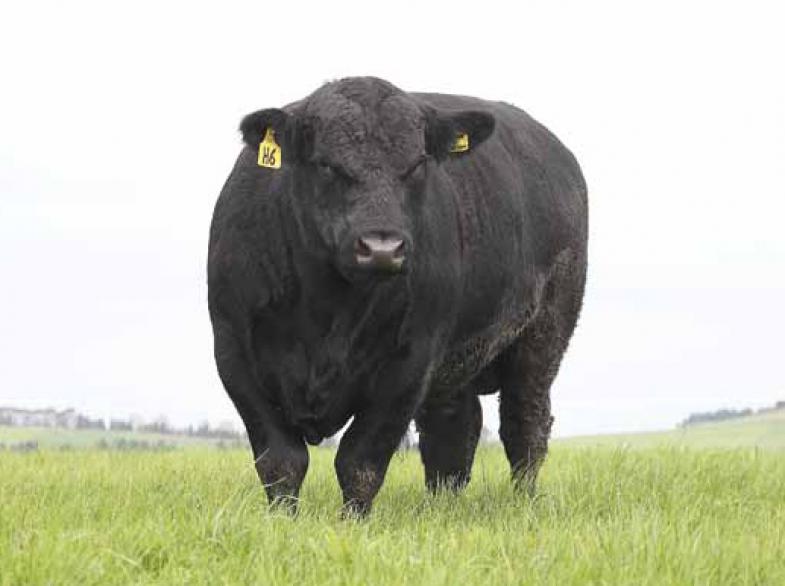 The following sires have been in use at Fossil Creek for natural service sires.
Herdsires used 2012 mating: Sons for 2015 sale
MF COMBO 1131

DoB:

20/08/2007

Purchased as Herdsire in 2008

Flawless Phenotype with great profile and depth of body

Great pedigree with mix of NZ and overseas genetics

Balance of EBV's with positive body fats and good index's

Top selling sire group at 2012 Fossil Creek Sale

EBVs and Pedigree
FOSSIL CREEK WINDMAKER 26-08

DoB:

23/08/2008

Ticks all the boxes: Phenotype, Performance, Maternal attributes

Calving ease sire

Top 10% EBVs for Fats, Angus Pure Index, Weaning Weight

Very smooth bodied, well muscled progeny

EBVs and Pedigree
ATAHUA BRAVADO 605-10

DoB:

08/08/2010

Purchased 2012 at Atahua sale $36,000

Owned with Sudely Angus

Quiet disposition and great balance of EBVs

Extremely wide topped and deep body with huge capacity

EBVs and Pedigree
MF FRONTMAN 1520

DoB:

13/09/2011

Purchased Martin Farms Ltd as a yearling for $20,000

Quiet bull with tremendous width of loin and depth of leg and body

Moderate Performance package but top 10% indexes

Pedigree very appealing. The Reagan cows are wonderful

EBVs and Pedigree
FOSSIL CREEK GENESIS 2-11 (ET)

DoB:

21/08/2011
FOSSIL CREEK GALAXY 4-11 (ET)

DoB:

24/08/2011
FOSSIL CREEK GOLDBAR 56-11

DoB:

12/09/2011
FOSSIL CREEK GAZZA 71-11

DoB:

15/09/2011

Great package of performance EBVs

Phenotype very stylish with depth of chest and body

EBVs and Pedigree
Herdsires used 2011 mating: Sons for 2014 sale
WAITERENUI ALLIANCE D-59

DoB:

07/08/2008

Purchased at 2010 Waiterenui sale

Extremely quiet disposition

Pedigree conbined the immortal female breeder Sitz Aliance 6595 as well as TeMania Unlimited

Fantastic set of balanced EBVS

EBVs in Top 20% for Milk, Fats and Self Replacing Index

Top 5% Breed and Trait Leader for Scrotal Circumference

EBVs and Pedigree
MF COMBO 1131

DoB:

20/08/2007

Purchased as Herdsire in 2008

Flawless Phenotype with great profile and depth of body

Great pedigree with mix of NZ and overseas genetics

Balance of EBV's with positive body fats and good index's

Top selling sire group at 2012 Fossil Creek Sale

EBVs and Pedigree
FOSSIL CREEK WINDMAKER 26-08

DoB:

23/08/2008

Ticks all the boxes: Phenotype, Performance, Maternal attributes

Calving ease sire

Top 10% EBVs for Fats, Angus Pure Index, Weaning Weight

Very smooth bodied, well muscled progeny

EBVs and Pedigree
STORTH OAKS C7

DoB:

23/07/2007

Sires stylish progeny with great performance. Great maternal profile

Traitleader for GL

Top 10% Breedplan for CE Direct, CE Daughters, AP and SRI Indexes

Positive fats

EBVs and Pedigree
FOSSIL CREEK LIGHTNING 2-10

DoB:

27/07/2010

Sired by highly sought after sire Kenhardt A320

Lightning sold to Tangihau Stud for $24,000 at Beef Expo 2012

Dam, Fossil Creek Kirsti 24-01 is a Milestone Dam and has 5 sons used in stud.

EBVs and Pedigree
FOSSIL CREEK YARRA 6-10

DoB:

07/08/2010

Sired by multitraitleader Woodhill Foresight

Dam is from the successful Quest family

EBVs and Pedigree
FOSSIL CREEK YALTA 29-10

DoB:

30/08/2010

Sired by Multitraitleader Woodhill Foresight

Hi Growth, Milk and scrotal

EBVs and Pedigree
FOSSIL CREEK VANUATU 47-07

DoB:

29/08/2007

Sired by Ardrossan Direction W109

High Fats, IMF and Angus Pure Index

Dam Elegance 58-03 sired 2010 Beef Expo Angus Champion

EBVs and Pedigree
Herdsires used 2010 mating: Sons for 2013 sale
WAITERENUI ALLIANCE 59

DoB:

07/08/2008

Purchased at 2010 Waiterenui sale

Extremely quiet disposition

Pedigree conbined the immortal female breeder Sitz Aliance 6595 as well as TeMania Unlimited

Fantastic set of balanced EBVS

EBVs in Top 20% for Milk, Fats and Self Replacing Index

Top 5% Breed and Trait Leader for Scrotal Circumference

EBVs and Pedigree
MF COMBO 1131

DoB:

20/08/2007

Purchased as Herdsire in 2008

Flawless Phenotype with great profile and depth of body

Great pedigree with mix of NZ and overseas genetics

Balance of EBV's with positive body fats and good index's

Top selling sire group at 2012 Fossil Creek Sale

EBVs and Pedigree
FOSSIL CREEK WINDMAKER 26-08

DoB:

23/08/2008

Ticks all the boxes: Phenotype, Performance, Maternal attributes

Calving ease sire

Top 10% EBVs for Fats, Angus Pure Index, Weaning Weight

Very smooth bodied, well muscled progeny

EBVs and Pedigree
FOSSIL CREEK VANUATU 47-07

DoB:

29/08/2007

Sired by Ardrossan Direction W109

High Fats, IMF and Angus Pure Index

Dam Elegance 58-03 sired 2010 Beef Expo Angus Champion

EBVs and Pedigree
FOSSIL CREEK WHISTLER 96-08

DoB:

18/09/2008

Powerful sire sold to Challenge Farms

Breeding strong sons with high retention rate to sale

Strong bone and great heads

EBVs and Pedigree
FOSSIL CREEK XMAN 4-09

DoB:

05/08/2009

Solid bull with all the traditional Angus attributes

Dam in Donor group and just weaned top calf at 14yrs old

EBVs and Pedigree
FOSSIL CREEK XTRAVERT 36-09

DoB:

09/09/2009

Sold $18,000 2011 Beef Expo to Ruaview and Mangarauki Angus Studs

Top 20% EBVs for EMA and positive fats

From the renown Quest family

EBVs and Pedigree
FOSSIL CREEK XPELL 92-09

DoB:

30/09/2009

Sold to Challenge farms at 2011 sale

Great maternal pedigree

Ideal heifer mating bull

EBVs and Pedigree
Historical Herd Sires
[ Back to top ]