Where Are We?
Neil and Rose Sanderson live at 'Craigevar', 100 Paradise Gully Rd, Ngapara. This is approximately 25 Km North West of Oamaru, and is the venue of our annual Fossil Creek Bull Sale, held in June each year.
Blair and Jane Smith live at 'Newhaven', 61 Turnbulls Rd, in the hills of Five Forks.This is where the Fossil Creek Angus cow herd is based ( in tussock blocks that range between 500-600 metres above sea level) 35 km South West of Oamaru.
Oamaru is approximately 2.5 hrs comfortable drive south of Christchurch on Highway and 1.5 hrs drive north of Dunedin.
Click image for a printable version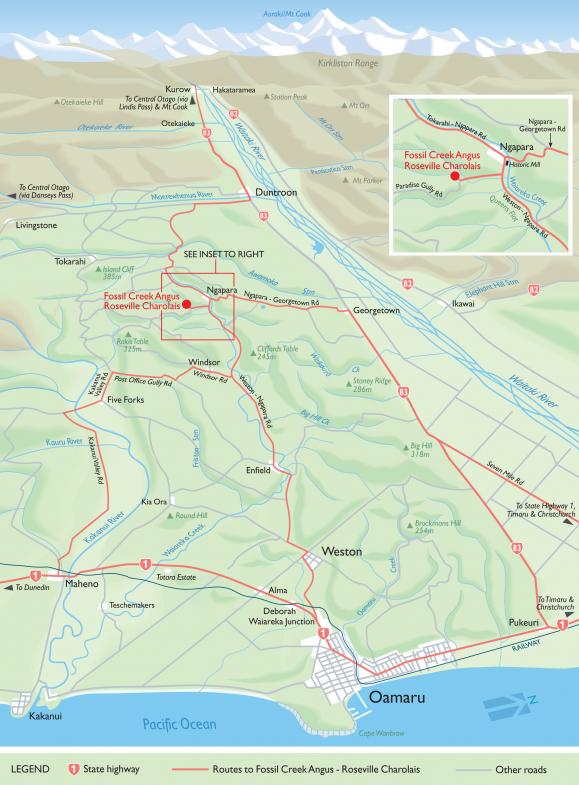 Directions
FROM THE NORTH TO NEIL AND ROSE'S FARM - 'CRAIGVAR' - The Fossil Creek Bull Base and Sale Venue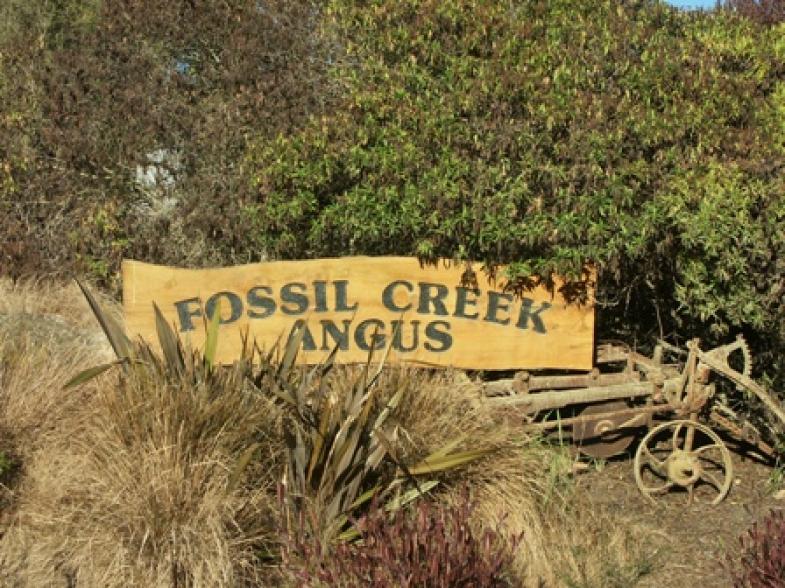 Click to see Craigevar on Google Maps
From the southern end of the Waitaki Bridge on SH1 travel 3.7 Km south and turn right into 7 Mile Rd at Oamaru Sand and Shingle Supplies big blue shed. (This is actually about 15 kms north of Oamaru)
Go along 7 Mile Rd until the end where it meets the main Waitaki Valley Road ( SH 83)( approx11Km )
Turn right towards Duntroon and travel West about another 11 Km until Georgetown.
This comprises a few houses and a church. At the western end of Georgetown, take the left turn signposted to Ngapara. There is a street light at this intersection for those traveling at night. Travel up over the hill and proceed about another 10 Km and you come down a hill into Ngapara to an intersection with the old Flourmill on the left.
Turn Left here towards Oamaru and proceed another 1Km to the Ngapara Rugby clubrooms on the right which is on the corner of Paradise Gully Rd
Proceed 1km upParadise Gully Rd and our drive is the second on the Right where the road takes a sharp Left Hand Corner. (Large Fossil Creek Angus sign at the entrance).
FROM THE SOUTH TO BLAIR AND JANE'S FARM - 'NEWHAVEN' - Home of the Fossil Creek Breeding Herd
Click to see Newhaven on Google Maps
From Dunedin travel approx 1 ½ hours North to township of Maheno.( 10 Km South of Oamaru)
At Maheno, turn left ( inland ) at the service station onto Kakanui Valley road.
As the road leaves Maheno it crosses an uncontrolled railway crossing so beware, then the road has several bends before a very long straightthen it crosses the Kauru river about 12 Km from Maheno
Proceed up the Kakanui valley road to the endof this road which is about 15 Km from Maheno where it meets Fuschia Creek Road at a T intersection.Turn Right and head to Five Forks. Go past the school along Kakanui Valley Road, 5 km along here you will find 'Dunrobin Road' on your left. Travel up the top of Dunrobin road (10 km) and Turnbulls Road is on your left. 600 metres along here is the Newhaven homestead, and the start of the Newhaven hill country farm.
View Larger Map