Background
Thankyou for taking the time to visit our website - we would love to host you on farm at any time - both to view the Breeding Herd in their tussock environment, or our R2 bull team that we will offer for sale at our upcoming auction in June.

Since the late 1980's, Fossil Creek Angus has grown to a herd consisting of 250 registered cows run in conjunction with the Roseville Red Charolais Herd. This growth has been accomplished through the purchase of a number of carefully chosen animals at dispersal and elite female sales, as well as maintaining selective female retention in herd.
The Fossil Creek Stud Breeding herd of 250 cows is run at the Newhaven hill block, 'Blairgowrie' a 1,100 hectare hill country farm in the hills of the Kakanui Mountain Range near Oamaru in North Otago.
A smaller property, 'Craigevar' is 25km away provides an ideal environment to hold our annual bull sale annually in mid June.
Fossil Creek Angus was established by Neil and Rose Sanderson and their daughters, Amelia, Ella and Georgia. From 2016 onwards, the dynamic team involved Blair and Jane Smith - who run the Fossil Creek Breeding cow herd at Five Forks. The strengths of Neil (a Veterinarian) and Rose's highly valuable experience in genetics alongside Blair and Jane's ability to challenge the Fossil Creek stud cows in a high altitude environment, bodes well for a strong future for Fossil Creek Genetics.
The Fossil Creek Rock Solid Genetic Profile
Fossil Creek Cattle are highly fertile and reknowned for their docility.

Grow rapidly to above average target weights on grass.

Utilise pasture to lay down fat cover and intramuscular fats.

Adjust and perform in the environment they are moved to.

Breed early maturing daughters with ability to calve year after year.

Uncompromised on structural soundness and temperament.
Our Breeding Philosophy And Objectives
One of the attributes of the Fossil Creek Herd is the strong emphasis on fertility, a trait we believe to be of utmost economic relevance in the commercial arena. Temperament is a critical trait in the herd and the Fossil Creek Herd has an outstanding reputation for docile cattle.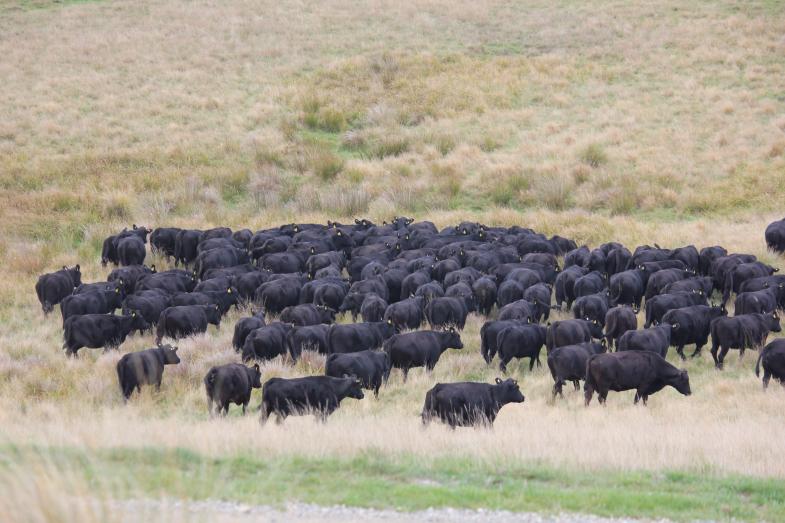 The Fossil Creek Angus programme does not involve single trait selection. We believe in the philosophy of balanced selection of the largest number of economically relevant traits. All females are calved at 2yrs of age and are subjected to a rigorous culling regime in subsequent years.
Undoubtedly the most influential sire to have contributed at Fossil Creek is Te Mania Prince 153-93. Regarded as the true 'King of calving ease' he passes on his strong attributes of soundness combined with heavy carcass weight. The Prince daughters now form the backbone of our herd with udder quality being a strong feature. We continue to utilize this valuable old sire through AI every year. Prince is one of the only bulls to attain this privilege.
We have also been fortunate to have used a considerable amount of Hingaia Tex 469 through the herd. The Tex daughters are gems and highly sought after. Tex 469 is a Pure New Zealand bull with very strong maternal, carcass and growth attributes.
In recent years many new outcross sires have been introduced to compliment and maintain the fertility and growth traits inherent in the herd but to add economically relevant features such as carcase merit to capture any processor premuims which may be available in the marketplace.
Recently the USA bull, Spickler Chisum has been used extensively in the herd and 4 sons used to strengthen the powerful phenotype and genetic attributes that Chisum has introduced to New Zealand. Chisum has contributed strong maternal traits to the herd including high scrotal size,high body fats and good growth and carcase weights but also lowering mature cow weights. A very sound commercial beef breeding package
Fossil Creek Hero H6, an outstanding son of Chisum was New Zealands top price Angus bull sold in 2014.
All Sires used are listed in the Herdsire and AI/ET Sire pages on this site

The team enjoys the challenge of working with commercial clients and helping to provide the best possible advice and genetics to meet their requirements.
Stud policy when purchasing cows to complement our herd is to carefully scrutinise the background of the family involved and make decisions based on balanced trait observations, involving longevity, fertility, and structural soundness.
Similarly, we thoroughly research the background behind our Herd Sires and AI Sires to make sure that they fulfil the objectives of balanced trait selection to suit the environment where our genetics ultimately settle.
Neil Sanderson is a specialist Embryo Transplant veterinarian, and owner of one of New Zealand's leading ET companies, Advanced Genetics Ltd. The company maintains an inventory of current Angus genetics from their herd and others. A full range of embryos can be sourced for domestic use as well as Export. Fossil Creek Angus genetics are currently found in Argentina, Uruguay, China, Australia, United Kingdom, Germany, Denmark, Sweden, Canada and the USA. There appears to be an increase in demand for sustainable grassfed beef genetics from countries such as New Zealand due to food safety, animal health and lower input considerations. The New Zealand Angus genepool can provide a sustainable source of efficient outcross bloodlines, especially important given the recent appearance of lethal genetic defects in certain heavily used USA sires.Neil is a past board member of the New Zealand Angus Association where his responsibility was the technical portfolio. Neil designed and implemented the Milestone Dam programme that recognises elite production females in the Breed. Currently he is involved as coordinator of a large female fertility research programme in New Zealand beef cattle working alongside a large pool of passionate scientists and management of industry good organisation, Beef and Lamb Genetics NZ Ltd.
Rose Sanderson is Fossil Creek Angus' resident expert in everything that involves Beef genetics. Rose has an impressive history of experience in Beef genetics both here and in her homeland Australia, and has a unique skill in ensuring that all stock are challenged to perform in both physical conformation and breeding value indexes. Rose's ability to be a tough judge of stock and her finely tuned stock handling skills have led to the Fossil Creek breeding herd being renowned throughout the country for no-nonsense robustness and easy to handle docility. Rose has a deep understanding of all Fossil Creek clientele requirements, no matter where they are in the country and she ensures that the line up of R2 Bulls each June mirrors these requirements for the ideal fit in each and every breeding herd.
Blair Smith has a strong passion for Beef and Sheep genetics - as proven through his leadership New Zealand's largest registered Perendale sheep stud - Newhaven Perendales, part of their 8,000 stock unit Newhaven Farms sheep and beef operation. It is this challenging environment in the hills of the Kakanui Range that the Fossil Creek Stud Cows are run - with a constant challenge of extreme climatic conditions thrown at them, as the North Otago high altitude environment tends to do. Deeply involved in the agircultural industry and a robust knowledge of what it takes to make a commercial farming operation successful, Blair is relishing the challenges and breeding rewards of the Fossil Creek Angus Stud.
Jane Smith has a degree in soil, animal, plant science and commerce coupled with 15 years experience in the fertiliser consultancy industry and rural banking. Jane is an independant director of the Red Meat Profit Partnership and a Crown appointed director of the New Zealand Veterinary Council and in 2016, became an invited member of the Global Farmer Roundtable. Jane is delighted to be involved in both the Fossil Creek Angus Stud and the Newhaven Perendale Sheep Stud (established by Jane's parents David and Robyn Ruddenklau in 1972). She sees this as a huge reponsibility to provide vision for the industry -with the stud stock industry being the power house of the sheep and beef industry both now and even more so in the future as farmers are challenged to become more efficient and effective producers of quality red meat protein.