Fossil Creek Hero H6. "Highest price New Zealand Angus bull in 2014."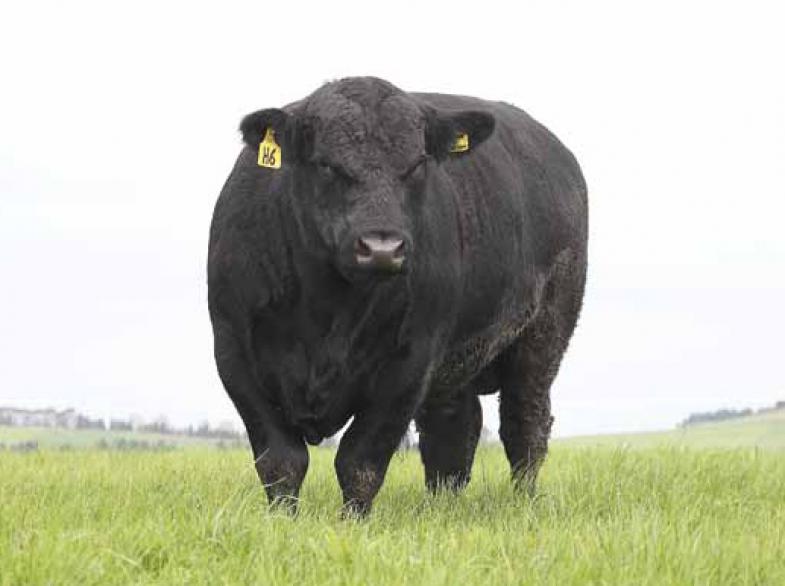 The 2014 bull sale season was dominated by the eagerly awaited appearanced of sons of the Multitrait sire, Spickler Chisum. Fossil Creek hero H6 was subject to very spirited bidding at the on farm sale eventually being knocked down to Tangihau Angus Stud from Gisborne. Hero had an exceptional pedigree along with a very strong and powerful female data package. A great phenotype completed the package and the bull which had seen stud duties at Fossil Creek Angus went on to perform well for his new owners.
Hero's EBV set continues to strenghten and he now sits with an even better data set which suggests a unique individual.
EBV & PEDIGREE | NZ FARMER ARTICLE | SUPER BULL REPORT
_____________________________________________________________
New Zealand Champions - 2008, 2010, 2011 & 2012
Fossil Creek Angus was in May 2008 awarded one of the highest accolades in the New Zealand beef breeders calendar. Fossil Creek Update 103-06 was exhibited at the 2008 Meat New Zealand sponsored Beef Breeders Expo.
This very heavily muscled young sire had been taken out of the pasture only weeks before the event so was in relatively natural condition when presented. He not only caught the eye of Angus Judge, Martin Williamson, who awarded him Champion of the breed, but later went on to win the Champion of Champions award.
This event is an all breeds show where the respective champions of seven breeds of cattle were judged by seven breed judges. Update 103-06, who was not led, captured the votes of almost every judge for his natural thickness, temperament and structural excellence.This award is the pinnacle of Beef Breeding in New Zealand. It is very exciting for Fossil Creek Angus principals, Neil and Rose Sanderson, as this bull's maternal aunt, Fossil Creek Kirsti 19-93 won the Interbreeds Champion Cow class at the 1999 Southland Royal Show.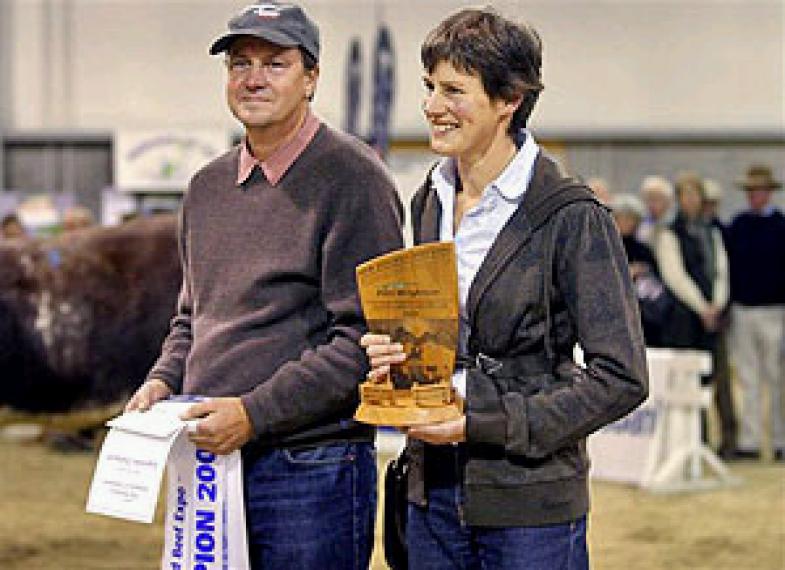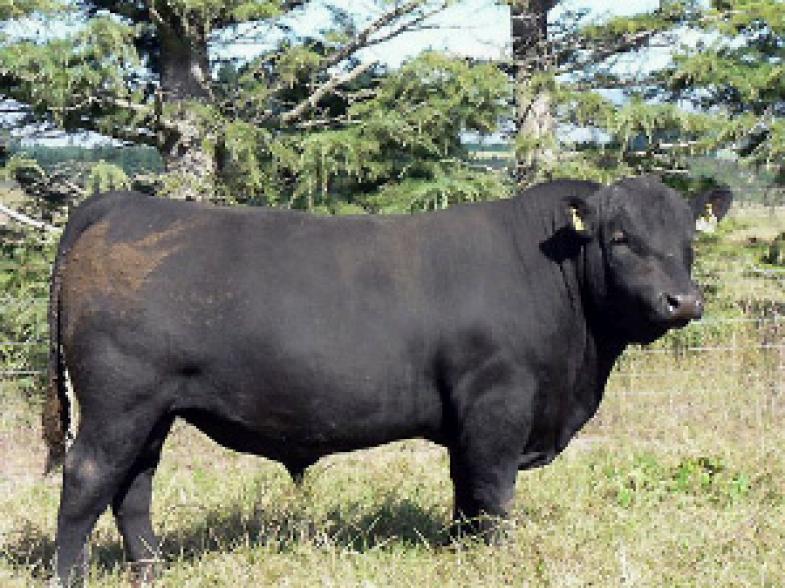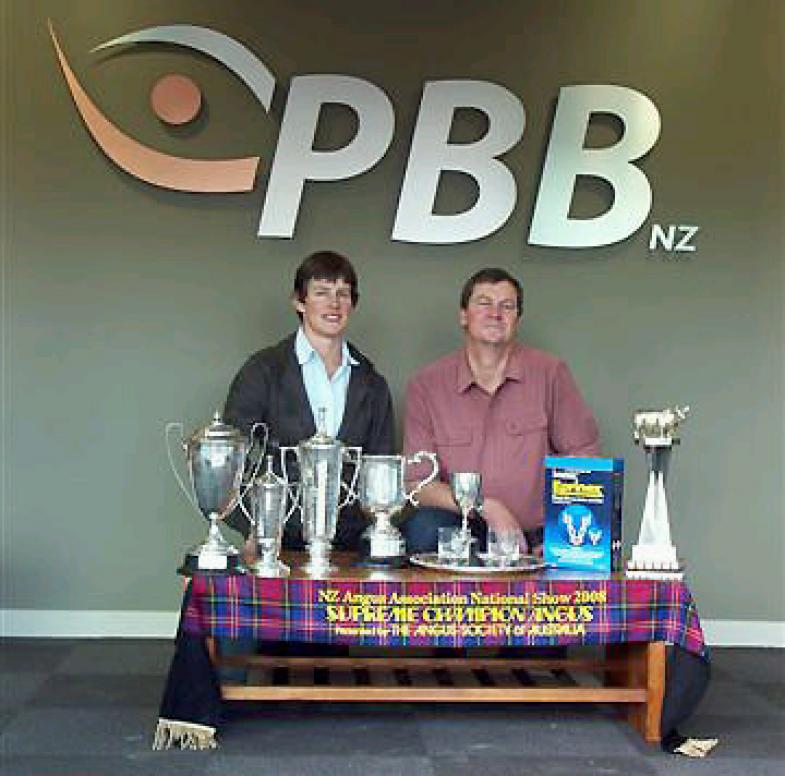 Other titles won by 103-96 in the Angus show at the beef Expo include:
Winner Class 1 – Unled 2 yr old bulls (Lots 1-8 & born 5/09 – 17/08/06) sponsored by PGG Wrightson Ltd.
Winner Supreme Champion Angus awards:
- Merial - $1000 – made up of 5 ltr Eprinex and $300 cash
- Australian Angus Society sash
- Tataramoa Challenge Cup
- Borthwick Estate Trophy
- NZ Angus Association Performance Award – sponsored by PGG Wrightson Ltd
Meat and Wool Challenge Cup – won by Fossil
Creek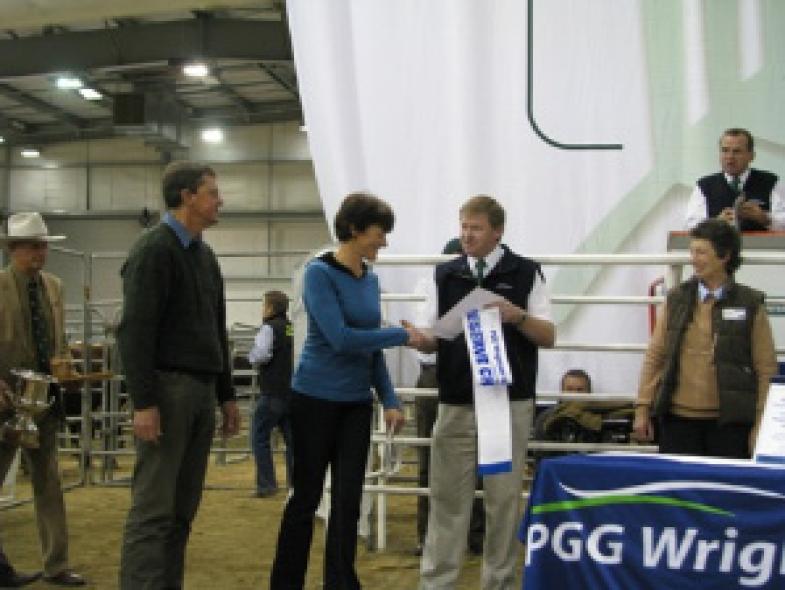 In May 2010, Fossil Creek Angus again won the prestigious Beef Expo Champion Angus Bull with Fossil Creek Warragul
92-08. This heavily muscled son of FC 47-06 who was in turn a son of FC Ranger definitely impressed judge Marion Tilson from Scotland, who the following day went on to award Warragul the Reserve Champion of Champions award for the Beef Expo from seven breeds exhibited. It was particularly rewarding to win these events under such a respected international judge who has one of the largest Angus Herds in the UK and was instrumental in introducing performance recording to the Aberdeen Angus breed in UK. Marion also recently judged at the World Angus Forum in Canada.
Pictured right are Neil and Rose Sanderson claiming the Reserve Champion of Champions sash with Judge Marion Tilson standing to the right.
Warragul 92-08 was then sold at the Angus Sale for $14,000 to Otoka Angus Stud and Waiwhero Angus stud both located in Hawkes Bay.
At the 2011 New Zealand Beef Expo in Palmerston North Fossil Creek Angus again was very prominant in the placings in the Angus section.
Fossil Creek Xylan 7-09 (lot 92 - pictured bottom-left), a powerful August born son of Kenhardt Z250 was placed as Angus Reserve Breed Champion by respected Judge, Rob Bulle, Ardrossan Angus, Australia. Robert was impressed by the strength and strong breed character of this sire who he commented showed unique structural soundness traits that he was looking for. Xylan then sold to long time Fossil Creek Angus supporters, Rangiora Farming Trust, Hawkes Bay.
Fossil Creek Xtravert 36-09 (lot 104 - pictured bottom-right), a later born son of Kenny's Creek Eclipse W111 who had seen service sire duties at Fossil Creek was judged Champion in the Performance Class and went on to sell for $18,000 to Maungaraki Cattle Company and Ruaview Angus studs
.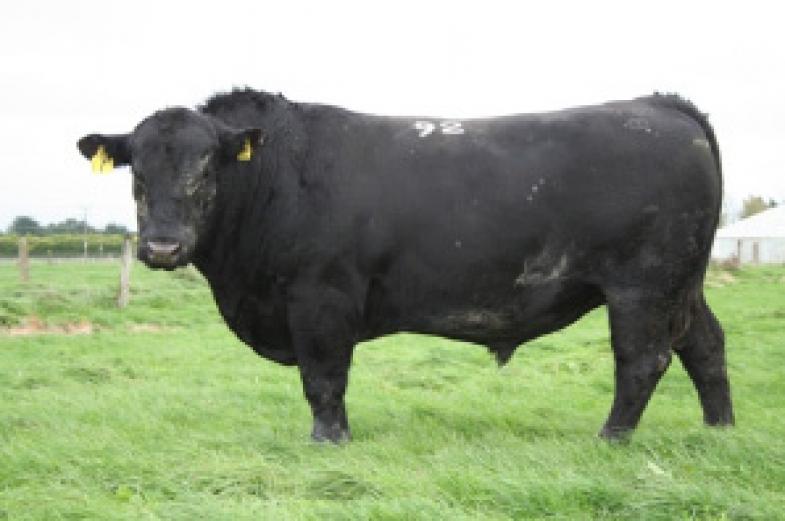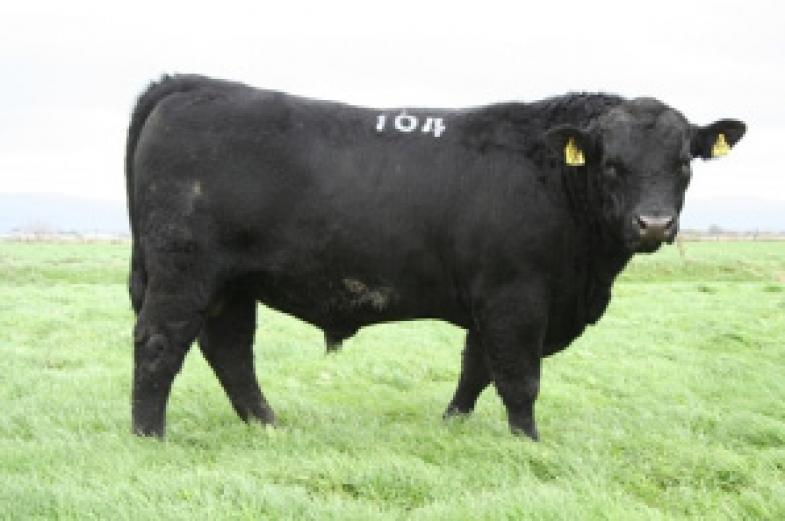 Fossil Creek Lightning 2-10 (pictured below) was awarded the Reserve Champion award at the 2012 Beef and Lamb Expo and was an obvious crowd favourite as he went on to sell for top price of $24,000 to Tangihau Angus, Gisborne. Lightning 2-10, a very quiet and structurally correct son of Kenhardt A320 and from highly acclaimed Fossil Creek Kirsti 24-01 made him a half- brother to 2008 Champion of Champions, FC Outback. This is the third Beef and Lamb Expo entry from the same dam, a truly unique achievement.